The face of work has changed a lot in the last generation. Gone is the time when a person's first job spanned the life of their career. Work is more transient now with many of us toiling as part of the gig economy. Numbers from 2017 report that 47% of Canadians work in a location other than their employer's office for at least half the week. Another 39% work mostly from home and 11% work exclusively from home. That means much of the workforce is telecommuting regularly. Distributed teams are commonplace with many companies offering remote-based positions with even entire companies that are remotely based. If you're thinking about working from home, there are a few things to keep in mind regarding home offices.
Advantages of Working from Home
There are many advantages to working remotely as an employee. The most obvious is the flexibility. This is especially good for parents, pet owners, and people with disabilities. Many telecommuters find it easier to achieve a work-life balance when they're working from a home office. The extra time clawed back from commuting or co-worker interruptions is at your disposal. Early risers can be at the desk while the rest of us are still waking up while night owls can clock out at midnight. Work-from-home autonomy can be a welcome path to productivity.
As an employer, you can also benefit from a remote workforce. With fewer people in the office, your costs go down. You can rent a smaller space and buy less equipment and fewer supplies. And studies show that remote workers tend to be more productive. Below are a few ways to make sure your remote employees still feel like part of the team.
Source: Alliance Virtual Offices.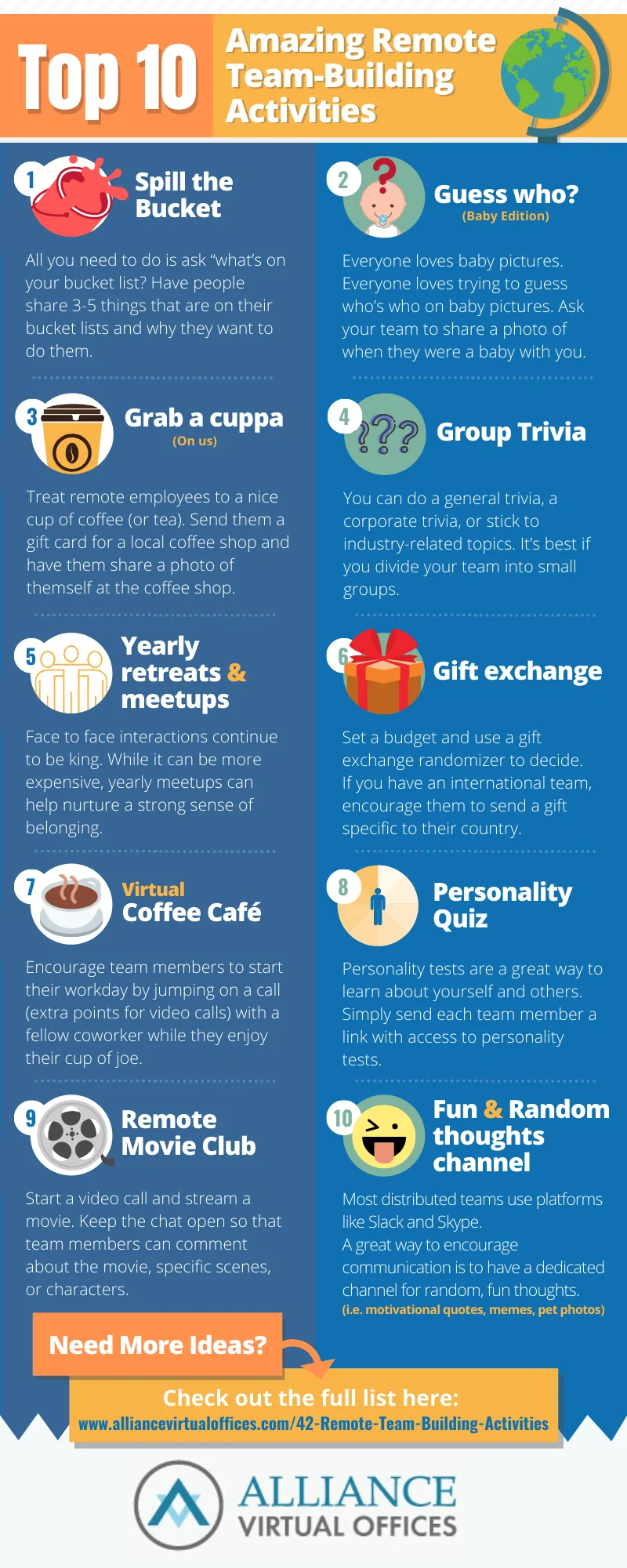 Disadvantages to Telecommuting
Telecommuting is not for everyone. It can be lonely to work in an office of one. Believe it or not, gossip can be productive—building team connections and kinship with co-workers. Working from home also means you may not have access to certain machines, resources, or tools. Finally, not being in the office can mean missing out on announcements and information that affect the workplace.
Communication is Vital
High-speed internet, wi-fi, and mobile phones have helped make remote work possible. Communication is the key to making sure all workers, remote or otherwise, are on the same page. That can be accomplished by using uniform communication programs and applications for things like instant messaging, video conferences, emails, and project management. Making sure everyone has access to the systems and access to each other is vital for clear and timely communication.
It's important to remember that as easy as IM applications and email make communication, sometimes clarity demands another format. Meaning and specifics can be lost in written messages sent to workers off-site. In certain instances, it's best to just pick up the phone or call a video conference. This is also a good idea for topics that involve discussion, questions, or input from multiple people. Making a trip in to say hi and connect in person can also be a good idea from time-to-time.
Using Video for Unity
Corporte video is a valuable tool when it comes to communicating with a workforce that's geographically dispersed. First and foremost, it enables a single source of truth for all employees. Whatever message you send via video becomes a touchpoint for those on the receiving end. If it's a training video, it can be used for reference. If a new company policy is discussed, workers have access to all the information in an easily viewed and reviewed format. Video is also a more personal form of communication. The CEO can wish all workers a happy holiday or deliver good news about quarterly profits. Even bad news may come across better with the emotion conveyed by video as opposed to a lifeless email.
Working Toward the Future
Home offices have become the norm for many of us. Whether you stop by work once a week or once a year—or have never even met your employer in person—there are ways to stay connected to the workplace. And there are tricks for making working from home a positive experience. Remote work trends are continuing to grow so chances are good that you'll either have some remote employees or do some remote work yourself in the future. If you aren't already a telecommuter. Put on the kettle, there's work to be done!